This election may have felt like a (surreal) marathon at times - but thankfully, we've rounded the final bend and are locked into the last, critical stretch: the sprint that is GOTV.
The get-out-the-vote phase is the bedrock of any campaign, and modern GOTV methods harken back to British campaigns in the 1940s - but new technology is revolutionizing these time-honored tactics.
Field campaigns have come a long way since canvassers navigated the streets with clipboards and walk sheets. Now, in the modern election era, there are plenty of ways organizers take advantage of cutting-edge technology to reach voters and turn them out on Election Day.
Here's five ways tech is being used to drive turnout and hit GOTV targets:
Social Media is Bringing Peer Pressure to GOTV
Tweets, likes, and shares are not votes, but if you know what you're doing, you can convert some of them into real people casting real ballots.
Peer pressure can be leveraged effectively on social media in a number of ways. By asking people to commit to vote publicly on social media, you place pressure on that voter to follow through and actually vote, which could have ripple effects on their social network. After all, if all your friends are doing something, you're more likely to do it too.
had a blast registering students to vote with @HillaryforVA on campus yesterday!! so easy to register: https://t.co/uZioL16BVY #VirWINia ☑️ pic.twitter.com/PFOfAfMUhQ

— Tyler Oakley (@tyleroakley) October 14, 2016
As our friends at Campaign Workshop have pointed out, you can use social media to reward people who do vote (or commit to vote) with a badge or something similar, that creates an incentive to vote, and sends a clear signal to that voter's network at the same time. There are plenty of popular services (Twibbon being among them) that make it easy for voters to add a badge to their profile picture on Facebook and Twitter.
Digital Ads Are Providing Affordable + Accurate Targeting
Digital ads are a brilliant way to reach GOTV targets accurately and cost-effectively wherever they are with compelling imagery and calls-to-action.
(Note: the below image is not a real ad - just a screen capture.)
While we've already written a blog post on the best ways to put digital ads to work in service of GOTV, one of the main points bears repeating: for campaigns without the resources to spend on traditional media, or for those with districts not well-served by a media market, running ads online can be far more cost-effective than scattershot, untargeted radio or TV ads.
Email Automation is Increasing + Personalizing Voter Engagement
Make no mistake - these aren't your traditional blast emails. Good old electronic mail has gained real smarts since the last cycle. Automated email tools are making manual marketing a thing of the past. Campaigners, marketers, and organizers can now design experiences and journeys that pull people along an engagement path towards a final action, whether that be a donation, a purchase - or even a vote.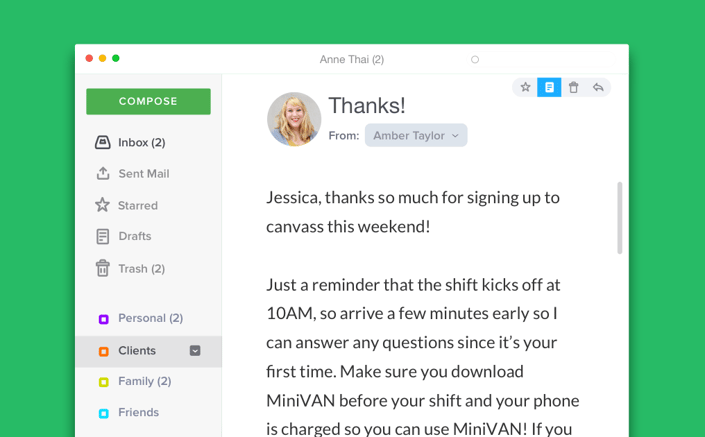 This year, organizers can design an experience for voters that ushers them along an engagement ladder that keeps them interested and informed, culminating in a final push for to get out and vote on election day.
Field Automation and Online Actions on VAN allows organizers to create automated follow-up emails to voters they contact in the field with relevant information to make sure they get down to the polls and vote. For instance, you could send them polling booth information, reminders to vote, transportation options on Election Day, and more.
Live Tracking is Keeping Canvassers on Course
Where are all your canvassers anyway? For many organizers, that question isn't exactly easy to answer.
As we get closer to November, many field offices will receive an influx of volunteers and paid canvassers from around the country to assist in the final GOTV push. Having inexperienced and/or disoriented canvassers wandering around the field isn't just inefficient, it's also a general logistics and safety headache.
MiniVAN, a first-of-its-kind mobile app and beloved canvassing companion to campaigns across the country, now works seamlessly with a new GOTV innovation: MiniVAN Manager allows organizers to track the location and progress of each canvasser on the turf in real time - meaning you can manage your team far more efficiently, and with far fewer headaches.
Phone Services are Driving Turnout
Yes, we know the telephone isn't exactly cutting-edge technology. Alexander Graham Bell invented this fancy device in 1876, but despite everything that's come since, contacting voters by phone is still important in the digital age.
Thankfully, you no longer need an operator to connect you - phone banking with new tools like Predictive Dialer is a fast, effective way to get through your GOTV lists (especially if you're in a time crunch), whether you're campaigning at the top or bottom of the ticket.
Having volunteer phone bankers ready to go isn't even a must-have for organizers looking to make the most of new phone tools like Predictive Dialer. This election, organizers can call on professional phone bankers on standby to contact any list they choose if they're running up against a deadline.
---
Modern GOTV is far more than clipboards and walk sheets - these organizers are leveraging more technology than ever to hit their GOTV goals in the face of such a challenging, important election. As always, we're cheering for you (and getting out there and canvassing with you over the next few weeks!) Feel free to email us at community@ngpvan.com if you have any questions.
You got this.