The 2016 General Election is changing the campaigning playbook in more ways than you might think. With huge amounts of new technology available to organizers on the ground, the possibilities for race-changing innovations are almost endless. That's why we decided to get together with our digital expert Mike Liddell, and our organizing guru Amanda Coulombe to ask what new tactics are on the cards for organizers this election.
Without further ado, here's five new tactics organizers should be using to save time + reach more voters before November 8.
Don't have the tools to implement these tactics? Check out Field Automation and Online Actions for VAN's advanced email tools + signup forms that integrate with VAN's organizing capabilities.
1. Volunteer Reminder Emails
Volunteers are critical to a campaign's success from persuasion to GOTV, and managing them is the biggest responsibility an organizer has. Unfortunately, just getting them into the field can require a lot of legwork, from following up on volunteer leads to organizing shift schedules.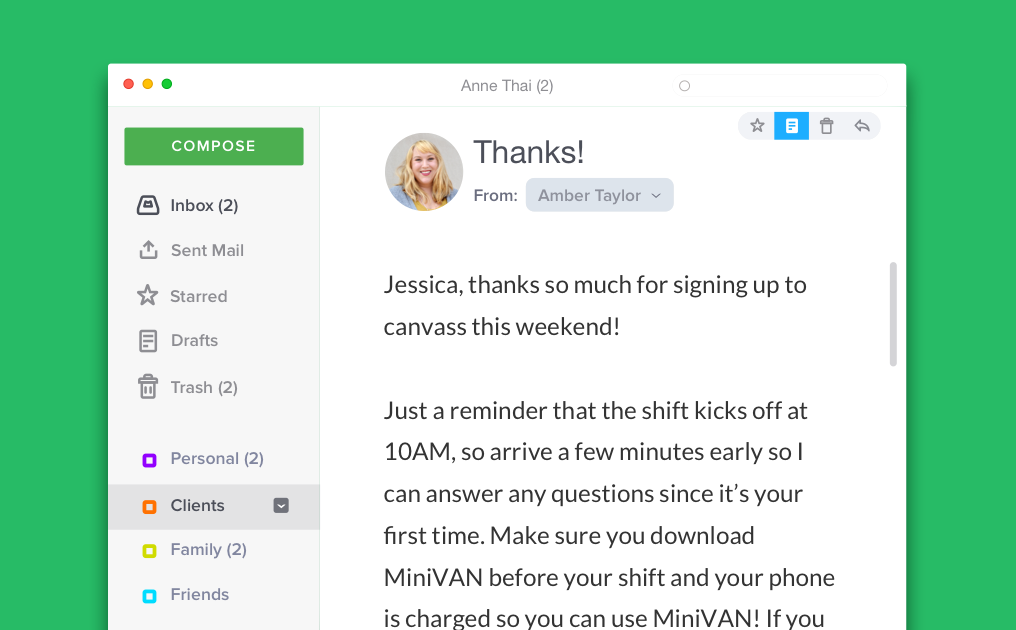 Thankfully, new technology offers tactics for ensuring your volunteer leads translate into boots on the ground. Instead of scrambling with personal emails and phone calls, organizers should schedule automatic reminder emails to volunteers to make sure they show up in the right place, at the right time. Be sure to personalize the content for each volunteer's shift by including details like when and where to meet,what to bring along, and what to expect.
Leveraging tech to remind and reassure your volunteers before their first shift takes less time, and results in less drop off for organizers.
2. Post-Canvassing Follow up Emails
Why should the conversation end at the doorstep? Keep voters interested and engaged with customized follow up emails after every canvassing effort. That way, your campaign will get maximum value from every contact your canvassers make.
New technology makes it possible to design automated, highly-customized follow up emails to send after every canvass using data gathered from the field.
Did one of your volunteers chat with a voter concerned about local education? Keep them engaged by sending them an automated email about your candidate's stance on education in their district, triggered by data from the day's canvass. Maybe another volunteer received a commitment to vote from a new supporter – use that information to send an automated email directing them to their nearest polling place.
Automatic follow up emails are a brilliant way to make sure your candidate doesn't fade from memory as soon as your canvassers have moved to the next house, and offer almost endless opportunities for personalization.
3. Optimized Volunteer Signup Forms
Donation forms have been the subject of ruthless testing and optimization for years, but this trend hasn't fully spread to online volunteer registration. Take the time to update your forms to something incorporating the best practices learned by fundraisers obsessed with higher conversion rates.
Switching to forms that are mobile-responsive (since I'm sure you're aware that over 50% of web browsing is now done on mobile devices) with a minimal number of fields and a multi-step process is a great start.
Once you've dispensed with the basics, you can move on to hunting for those final few conversions by testing elements like button color, page format, and more.
Higher conversions on your volunteering registration forms prevents prospective volunteers from being turned off by an unwieldy sign up process, and offers you the chance to boost your campaign's presence on the ground.
4. Nurture Your Volunteers
Nurture emails are a series of automated messages sent to fresh volunteers to thank them, offer more information, and provide pathways to for further engagement. They're a ubiquitous feature in fundraising and commercial marketing operations for good reason: they increase engagement with sign ups, and thereby increase their value.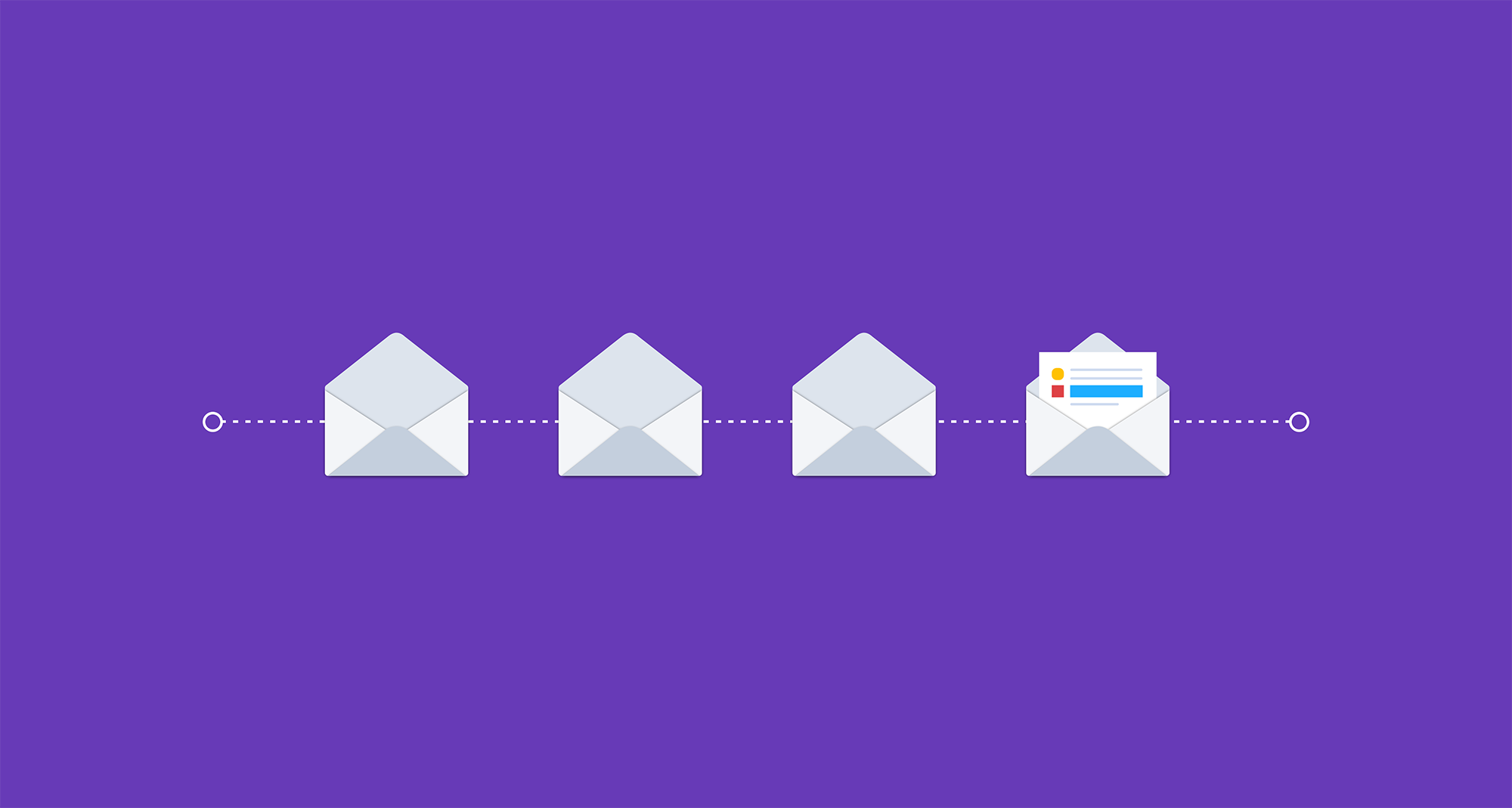 Organizers should mimic these nurture emails for prospective volunteers in order to increase engagement, and thereby the number of hours they're likely to put in on the ground. Set up a series of emails to send in the days after volunteers sign up, thanking them for their interest, informing them about upcoming events, and telling them what to expect on a typical day in the field. It's also a good idea to extend these emails over the following weeks if volunteers seem to have disengaged or haven't responded.
Using automated tools for these tasks means you can respond to new sign ups immediately, day or night, and send hundreds of emails to volunteers introducing them to your campaign and your candidate - an almost impossibly time consuming task for organizers to do manually.
5. Automatic Event Emails
Events represent a sizeable commitment of resources for campaigns, and significant amount of time and energy for organizers tasked with driving attendance. Thankfully, new technology means organizers can multiply their efforts and make sure the campaign gets maximum return on investment.
Using email tools is the best way to make sure attendees receive the reminder, follow up, and thank you emails they need to stay show up on the day, and stay engaged after. Organizers should set up multiple reminder emails to minimize no-shows, as well as thank you emails to send straight after the event, and nurture emails for the days following to help direct supporters to sign up to volunteer, attend the next rally, or even donate to the campaign.
---
With so much at stake this election, innovations that make organizers more productive and campaigns more effective are vital. Considering the universe of potential that new digital tools and integrations are bringing to the field, these five tactics are really just scratching the surface - with so many passionate organizers, more powerful strategies and tactics are sure to be found.
Good luck!
Got an idea or a question? Shoot us an email at community@ngpvan.com - we'd love to chat.